Continuing the series Szeged Pólus Development Non-profit Ltd. held business breakfast for third time this year on 04 December.
Vice Mayor for Urban Development Sándor Nagy opened the event and noted that the aim of the series is to strengthen and improve the cooperation between the companies and Szeged city and to create the possibility of a dialog between the participants.  
All the past business breakfasts had current topics, this time Gergely Hacsi, Director of Professional Business Unit and Anett Andicsku, Recruitment Team Leader of Trenkwalder Recruitment Ltd. presented about the employees' feedbacks and about how to attract and keep current employees.
Nowadays, companies all around the world are constantly developing their employer brands which is indispensable to remain competitive, acquire and keep the best talent in the market. It is also really important to keep the employees and to do so it is necessary to know the preferences of the members of the company. In Szeged the IT sector is determinative so therefore the presenters gave useful tips about this sector.
During the presentation Gergely asked the attendees whether they already used satisfaction survey in their company and fortunately, not surprisingly most of the answers was 'yes'. However, the reasons of the surveys yet showed difference. General development was the main reason for the majority, improvement of employee satisfaction was the second and last one was to reduce dissatisfaction.
The question arises as to what action plan followed this survey. Based on the attendees reactions the most common was the improvement of trainings, the creation of career plans, the structure and the revision of the tasks.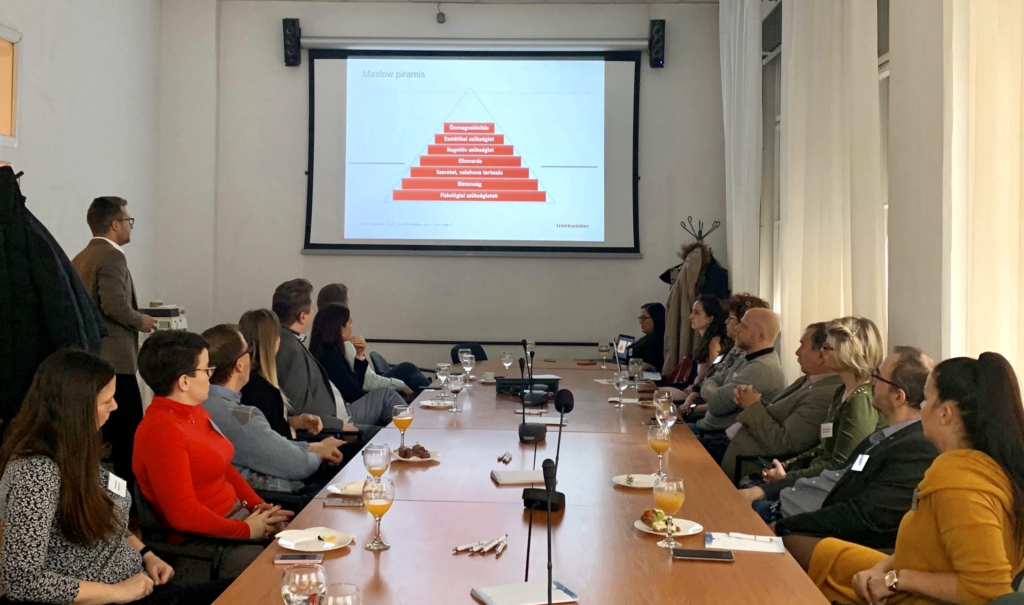 Presenters also talked about Herzberg's motivational test, which aims to measure specific motivators at a given moment, and which is a two-factor theory investigates hygiene and motivational factors.
In a quote from Harward Business Review, Gergely talked about some basis for example companies with a strong employer brand have less recruitment costs per capita (approximately 43% less). Moreover, during the job search process candidates are three times more likely to believe the opinion of the current employees than believe the company's general slogan.
IT candidates from Szeged and Budapest were interviewed in a survey made by Trenkwalder and during the business breakfast participants got the chance to know some of the results. For example the preferences regarding fixed-term and open-ended employment or the importance of salary, home office, office environment and the possibility of professional development. Home office is almost a must in Budapest the question is that will Szeged follow this way or other factors remain determinative.
If you are interested in our second business breakfast you can read the – Hungarian – summary here.